May 19, 2022
Posted by:

teamworx

Categories:

Agile Resources & Tools, Big Room Planning / PI Planning, Uncategorized
Have you been tasked with facilitating a large virtual meeting (100+ participants)? We asked Agile Coach Zhi Lee what was on his checklist for running virtual Big Room Planning by way of example. Having successfully run 6 BRPs as well as 4 large training exercises with remote participants over the course of 2020 and 2021, here's what Zhi had to say!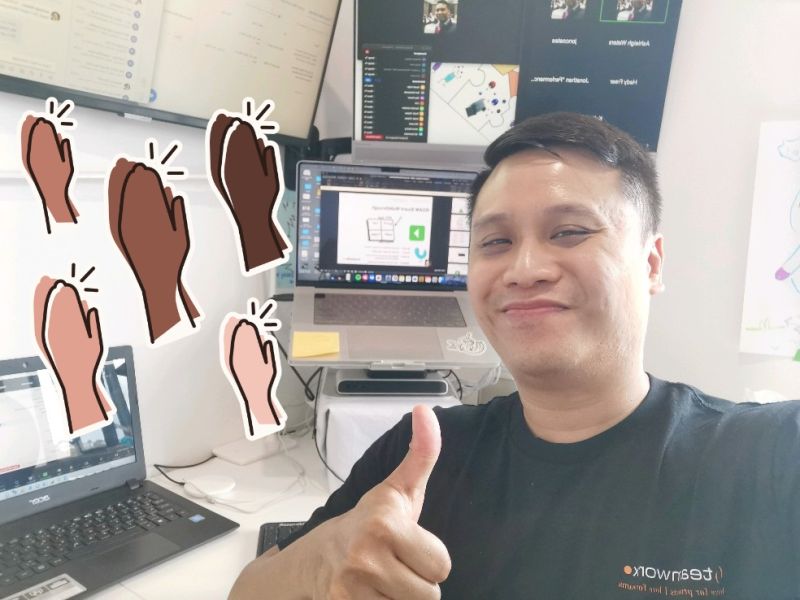 My go-to framework for any meeting prep is the 7 P's. Over and above a standard in-person meeting, there are additional considerations for a large virtual event.
Purpose
If it is a traditionally in-person event you're running that you're converting to virtual, have all new starters been inducted into the purpose of the event?

Consider spending more time on this induction as there may be new starters amidst Covid who haven't been in the office very much or met their team in person. Consider running a virtual induction using the same platform you are going to use for the event. Don't just point people to read the induction documentation or event notes, actually run them through the WHY, WHAT and HOW of the event.
Product
Ensure people know where to find the your virtual whiteboard / collaboration space (e.g. Miro)

A virtual collaboration space becomes the central point of tangible and effective discussions. Consider pointing out what whiteboard tool we will be using to collaborate at your Pre-BRP induction. Post a shoutout to the actual whiteboard in your existing comms channel (e.g. Microsoft Teams), put a link to it in the agenda of the meeting invitation. Basically, communicate lots about this Miro board.

Expect access issues – ensure people are granted the correct permissions especially if there are externals who are not on your organisation's network.
People
Aside from meeting participants needing to know what role they play in the event, it's just as important (if not more important) to ensure that all speakers know when they are up!
Process
Carry through the macro (why are we here) and micro purpose of the meeting (what's happening now, what's next) through every stage.

Ensure you keep pointing to what's next in the agenda and what we're doing RIGHT now. This is especially important in a virtual meeting so people know where to be when virtually. Ensure you touch on the virtual planning process using the Miro board.
Pitfalls
If you've needed to purchase a subscription for the video/voice platform, ensure it is up to date and paid up!

For example, with Zoom there are no breakouts in the free version and you cannot run meetings longer than 40 minutes.

Don't forget to record the right sessions. Don't record more than you need to. Sometimes recording infringes on the safe space you're trying to create.

Ensure you do not have stray meeting links in your invitations. For example, if you're using Zoom and people are accustomed to using Teams, they may jump into teams by default. In this scenario, remove all stray MS Teams links.
Prep
Ensure all invites and times are up to date. Don't overbook by creating a longer invite than necessary. This is especially important in virtual meetings where people rely on clear expectations re timings.

Create a single shared presentation deck that everyone can chime into, rather than flick between screenshares. This will save time and allow for a slicker presentation.

Check all URLs in invites, especially with Zoom links there can be cut and paste errors.

Start your meeting at least 20 minutes in advance – this allows you and others to dial in to early to check audio.
Practical Concerns
Ensure everyone knows the event is virtual, what platform we're using and where to find the agendas / runsheets.

If you are using Breakout functionality (which is certainly the case with BRP), ensure everyone knows to use the Desktop (not web) client. Running a pre-event check-in with a breakout 1-2 weeks before the event will save you major troubleshooting during BRP. Pay extra attention to externals, making sure they understand the above 2 points.

As a facilitator, you need the best setup you can afford in order to be confident, productive and be able to tune in to the needs of the participants.

3 screens are recommended (laptop + 2 secondary monitors)
Screen 1: Facilitator controls – eg. breakouts, chat, announcements, participants
Screen 2: A browser with multiple tabs. Tab 1: Whiteboard (e.g. Miro), Tab 2: Email, Tab 3: Comms tool if different from event platform e.g. MS Teams (use the web version as it is more stable)
Screen 3: Presentation material

A second backup laptop is recommended. Have this also dialled into the Zoom session. I use the secondary laptop to dial into breakouts, while the primary laptop remains in the main session so I can monitor chats or present the agenda on screen. Bear in mind that leaving the main session to attend a breakout would mean losing any screens shared to the main room.

Ensure all the polls set up beforehand have not expired.

Have a paper copy of the agenda and tick things off as you go.

A good handsfree kit (recommend the Jabra Speak 510 as a minimum). Going hands free allows you to listen in to both laptops (breakout + main room).

Have a checklist of sessions to record.

If possible, get a secondary facilitator to monitor chats

Book in-person rooms for people who wish to be onsite
And lastly, just turn up and be calm. Breathe! You can't plan for every scenario so take everything in your stride.
Below is the excerpt about what each P means in detail (from Gamestorming).
Purpose: Why are you having this meeting? As the leader, you need to be able to state this clearly and succinctly. Consider the urgency of the meeting: what's going on, and what's on fire? If this is difficult to articulate, ask yourself if a meeting is really necessary.
Product: What specific artifact will we produce out of the meeting? What will it do, and how will it support the purpose? If your meetings seem to be "all talk and no follow-through," consider how a product might change things.
People: Who needs to be there, and what role will they play? One way to focus your list of attendees is to think in terms of questions and answers. What questions are we answering with this meeting? Who are the right people to answer the questions?
Process: What agenda will these people use to create the product? Of all the 7Ps, the agenda is where you have the most opportunity to collaborate in advance with the attendees. Co-design an agenda with them to ensure that they will show up and stay engaged.
Pitfalls: What are the risks in this meeting, and how will we address them? These could be as simple as ground rules, such as "no laptops," or specific topics that are designated as out of scope.
Prep: What would be useful to do in advance? This could be material to read in advance, research to conduct, or "homework" to assign to the attendees.
Practical Concerns: These are the logistics of the meeting—the where and when, and importantly, who's bringing lunch. ​